2018 FESTIVAL GUIDE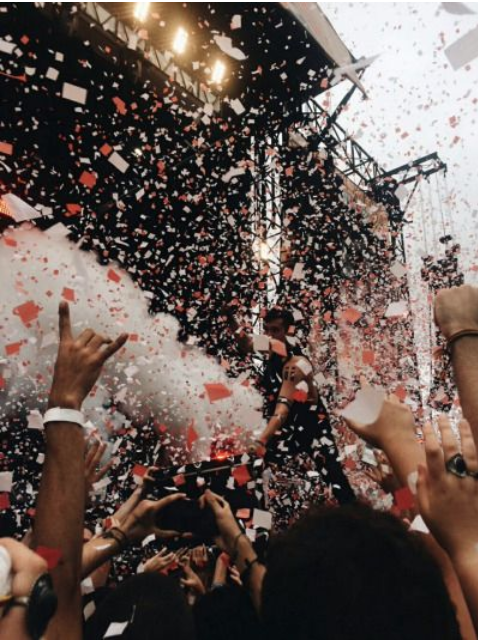 It's that time of the year again, our favourite time … FESTIVAL SEASON
No matter what festival you are attending - Coachella, Groovin the Moo, Mountain Sounds, Sydney City Limits or the multiple other music festivals this year has to offer - you definitely need a killer outfit.
While there may be no strict attire guidelines, we have compiled some helpful tips on what to wear to a festival.
Great clothing, great tunes and great memories are all that festivals are about, so don't stress out about what to wear or what you need … follow this guide for tips and tricks of staying on top of this festival season.
Mountain Sounds - Sydney Central Coast
Date: Friday 16th & Saturday 17th of Feb
Who doesn't love a sick two-day festival especially with a line up like this... from acts like Hockey Dad, Hayden James, Paces, Safia, Gang of Youths to their all important secret headliner PEKING DUK 💥 This is a festival you do not want to miss out on!
This festival thrives on it's tradition to uphold its title of being a "boutique festival" fuelled by music, art, culture and bringing people together, so for you not located in the beautiful Central Coast or Sydney, I would recommend buying a plane ticket and getting your way to this festival to help celebrate it's 5th year.
Image Source - Instagram @moutainsoundsfestival @lifewithoutandy
Sydney City Limits - Centennial Park
Date - Saturday 24th February
Sydney City Limits will go down in history. This festival is a must this year with so many acts announced spread over 4 stages. This lineup is HUGE from Tash Sultana welcoming you to the Jungle, All Day playing it cool, Ocean Alley, Dune Rats trying to figure out Scott Green to Future and Young Thug throwing their cards in, what a lineup ! What a festival 🙏🏼
Not only does Sydney City Limits promise a day filled with awesome music but there is also a wide range of food options to keep us going and twenty local market stalls to cater to all your festival hopes and dreams when you need a break from that claustrophobic mosh pit. I would definitely be making my way there this year and loving every second of it - the only concern will be which stage to visit first 🤔
Image Source - Sydney City Limits Website
Let's get down to the nitty gritty … what are you gonna wear ?
Festival attire is like 100 x easier for guys than girls right ? Not necessarily 🤔
Guys, be real you all wanna be comfortable, be able to move, be able to cool down easily, have your moment throwing your shirt off in the mosh pit and still look somewhat decent right ? Exactly, you don't have me fooled 😏
So let's get down to the trends coming through for this year -
We love living moment in vintage pieces and lucky we have a whole range of Mr Vintage Pieces to cater to your needs and wants
Brimmed fedoras and floppy hats are definitely the way to go when it comes to styling with a vintage tee or any tee really
When you go to a festival you need shorts - jeans are nice and stylish but a sick pair of ripped denim shorts are the way to go to keep cool and looking good
Shoes are one of the most important aspects of your outfit, wear a pair that you love and are comfortable in because you will be on your feet all day and you need that comfort and support so I would go for a sick pair of Vans or Dr Martens
Image Source - Instagram @braydenstiles
Keeping it simple with this Silent Tee paired with the Spencer Short and some Suede Classic Pumas
Accessorize with the Teddy Boy Sunglasses - Black/Blue Revo and some Bandana Barrio Sock
Keep it cools at your next festival with this natural colour palette
Wear the B.Cools II Short - Stone Linen, Cools Muscle - Army Animals, Barney Cools Curve Brim Cap - Tobacco, Icon Sock - White, Old Skool Sneaker - Black + White, Seventeen Hip Pack - Black Gridlock, Everyday Polarized Sunglasses - Black Matte
LOOKING FOR FESTIVAL THRILLS ?
Lets get comfy in the Jungle Shirt - Natural Yarage wear this over the top of the Centre Front Palm Tee - Rose Dust paired with the Chopped Chino Short - Navy and you will get into that festival vibes
Accessorize with the Thrills Classic Country Cap - White, Old Skool Sneaker - Black + White and Lennon 2 Sunglasses - Black/Black to keep you looking your best
Revolution for the people 🤘🏼
Cannot get enough of this style. Wear something vintage inspired with the Revolution Heck Tank - Black Acid, Gussett Stretch Denim Short - Vintage Indigo
Complemented with simple yet staple accessories - Flex Polarised Sunglasses - Black/Black, Icon Sock - White, Suede Classic Sneaker - Black-White
So this wraps up this festival outfit guide, so here is some last minute words of wisdom - have an awesome time, don't lose anything, make the day yours and tag us in all your festival pics in our clothes ! We love seeing them
Know anymore music festivals coming up that we should post about? Send us a dm through our social media about festivals you want to see more info on ⚡️
Image Source - Pinterest (Unknown Original Source) Middle : @tommymartello